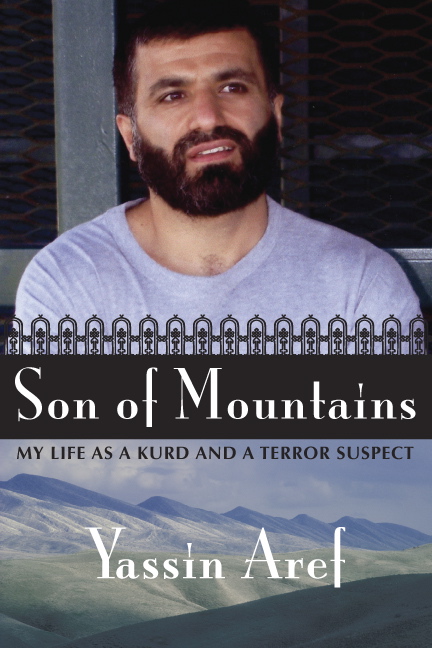 Son of Mountains
My Life as a Kurd and a Terror Suspect
A Review

When I first heard about this book I thought it would be a detailed play-by-play of the cat and mouse game of the FBI versus the author and how he finally ended up in prison. Then I thought it might be a book about how our civil liberties are being eroded or perhaps about how Muslims are being stereotyped as terrorists and persecuted.
Then, I started reading.
From the very first line of the book where the author introduces himself in the first person I was drawn in. And I wasn't able to let go until I read the very last lines of his "jail stories" almost 500 pages later. I laughed at his amusing anecdotes and witty jokes. I imagined his childhood world complete with village characters. I was touched when he talked about sleeping in his mother's lap under the Kurdish sun and cried when his father died. I was anxious for him to escape his war-torn life and felt idyllic with him when he worked as a gardener in a beautiful villa in Damascus. I attended his wedding and wanted to throw rice as he left for a new life as a newlywed. I was excited for him when he found out he was coming to the United States as part of a United Nations program for refugees. I laughed at his confusion over Albania and Albany and as he detailed his "coming to America" encounters. Towards the very end of the book I was almost surprised when he was abruptly arrested and put in jail. I had almost forgotten what this book was about.
The last chapter at the end includes a detailed report about the evidence and trial by one of his lawyers.
I did not think the author would be a good writer, but the editors have fine tuned the writing so it makes sense to English readers and it happens that his story is just so compelling you cannot help being engrossed.
I am very happy that this book has been written, because this is the story of one Muslim's life at the beginning of this new century in our post 9-11 era. His story while of one man is the story of many Muslims across the world. But this is the first time an autobiography of this depth and length has been brought to publishing light in the English language.
It's a book that is so powerful and detailed and emotional that I defy anyone to read it without coming to tears at least once. A book that I hope will one day be read in schools, like Anne Frank, as an example of the period we lived in, where persecution of Muslims while rampant is denied. A testimony to the times we live in where only history will show what injustice was done.
There are many others, of course. Countless stories of Muslims going through trials and tribulations. Innocent men being detained, locked up, tortured, harassed. Families torn apart. Police-state tactics, crimes being manufactured. Men being targeted and arrested before they have even committed a crime.
We have heard of Rendition's Maher Arar, Brandon Mayfield, Sami al-Arain, James Yee. Now add Yassin Aref and read his autobiography.
*Son of Mountains is available via Amazon/Borders.